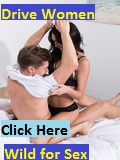 Do You Get Tongue-Tied
With Women?
Here's What Our Book Can Do For You...
Tell you how to talk to a girl in ways that turn her on to you.
Tell you how to keep an exciting, interested conversation going for hours, with a single girl you have just met.
Tell you how to advance in "Phases" from your first contact with a girl, step by step, to the bedroom.
Boost your confidence when picking up single girls by telling you the approaches that are proven successful.
Explain how applied psychology can help you to influence girls (or anyone). A real source of power for attracting single girls for love, intimacy, and romance.
Tell you about clothes, and the part they play in impressing girls.
Plus Discussion Of: Sex Appeal...Self-Confidence...Body Language...Personality and Self-Esteem...Overcoming Your Shyness...Self-Consciousness...Handling Rejection...Small Talk...Sexy Topics...Compliments...Speech Improvements...And Much Much More.

Drive Women Wild with Powerful Pheromone Cologne
I wrote this tells-all book called,"How to Talk to Women...A Guide for Tongue-Tied Men" to clear up some of the confusion and uncertainty (among men) about the best ways to impress single girls and cultivate relationships with them. This uncertainty is a big problem when you are considering picking up a girl.
You may get suggestions from other men on meeting, dating, and seducing single women. Or you may take note of the dialogue in TV, movies and books. But everywhere you find different ideas, many of which contradict each other. And some of the techniques just seem wrong to you.
For example, some men say it is best if you are very aggressive when approaching girls. But you may wonder just how aggressive your approach can be before it becomes offensive and results in an embarrassing rejection. How far can you go without being rude and objectionable?
Is it best to cut the hogwash when you meet a girl, come right to the point and propose a intimate relationship? Or is it better to work up to it gradually? Or again, are there certain "magic" words or techniques which will do the trick for you quickly and easily? Most men are really not sure about these things.
If you have tried to pick-up women, you know that this kind of uncertainty destroys your confidence. How can you be confident if you have serious doubts whether you are doing the right thing? So you probably make a weak attempt, fumble it, and retreat embarrassed.
---
I spent some years on this book, researching, sorting out facts from fallacies and collecting information. Some of the things I found surprised me. Others confirmed things I had suspected all along. Your reactions should be similar.
One vitally important concept emerges on page 63 which should provide a wonderful advantage to any man when picking up single girls. I consider it the one most important new thing in the book. It is a simple fact that will become crystal clear to you when you read it.
Of great importance also, is the way different situations effect pick-up approaches. For example, a suitable approach to a girl sitting in the park (or on the beach) would not be suitable if the girl were walking along the street. We discuss in detail the differences between these "stationary" and "moving" situations.
Of course picking up single girls isn't the only thing we are concerned with. Just talking to a girl under any circumstances is of prime importance. You should be able to do this effectively, injecting enough excitement and interest into the conversation to impress the girl. Picking up a girl is just an extension of this ability to talk to girls. You must be able to start talking to her, and then keep on talking to her.
This book goes deeply into how to talk to girls. It is loaded with examples of opening lines and interesting, exciting conversation material. All the good stuff. Some of our opening lines are real gems.
Girls like action too, not just talk. This book discusses how to use many kinds of exciting activities to entertain and impress girls.
Do you freeze up when trying to talk to women? With the help of this book you won't anymore - you'll know exactly what to say and how to say it.
"How to Talk to Women...A Guide for Tongue-Tied Men" provides you with a plan in which the problems have been considered in advance. You will not be trying to figure out what to do (and say) as you go along. It has been thought out for you, and laid out clearly for your convenience. It is a packaged plan for the man with romance on his mind.
If you are interested in single girls, (and what red-blooded man isn't?) this amazing book will change your love and dating life for sure. Many men have read it and agree that it is an outstanding success for dating more women.
I describe this book as: Tons of powerful pages of information and know-how, on perhaps the most important subject to men of any age: "How to impress women."
Wishing you much success with women,
John Christie, the author
Order your Book today and never be tongue-tied around single women anymore. Satisfaction Guaranteed. Full One Year Money Back Guarantee!
P.S. - Be sure and check out our other best-selling book on how to talk to women called, "1001 Best Pick-Up Lines."

To buy How to Talk to Women Book on Amazon
Click Here


---
Order Item #031 - How to Talk to Women - $9.95 (To Order by Credit Card or PayPal please click the Add to Cart button below)
---
[ Back | Catalog | Home | Site Map | Order Form for Mailing Your Order | Next--> ]


Gemini Publishing Co., PO Box 293535, Kerrville, TX 72809
Phone: (830) 496-3337...Buy Now...Email: Click Here
Copyright © 2023 by Gemini Publishing Company