Winner of Our Personal Ads Contest

I was using the online Personals for a while and met a great girl and was seeing her for about 1 year. Then we grew apart and the rest is history.
Since breaking up with her (September 2001), I once again jumped into the online personals. In the 8 months on there, I have had 7 dates. 5 were lost causes and 2 were good. I ended up sleeping with the 2 good ones after the third date.
So, to me the online thing has been a success. As I get to meet plenty of different women (although not all of them I am attracted to).
My advice to people out there is as follows:
List your likes and what you like to do for fun. Donít tell women how much of a great, caring, sweet, sensitive person you are. Be a Man tell them what you like. And they can decide if they enjoy the same things.
ALWAYS get a photo (full body shot if possible). I have been out with a few women who say they have a "average" body with curves in the right places. Well to me a size 16, with a fat ass, fat belly and chunky legs does not constitute a normal sized girl.
Girls love it when I would list questions for them to answer (about 5 or 6 each email). Donít really know why they just do. Most would say they Ďlove it when I listed question for them to answer.". Non -threatening ones to start with. Such as "Ultimate dream career?", "What do you want to do when you grow up?", "If you could holiday anywhere in the world where would it be?"
Again, as always, "bust their balls."
And act like you are verifying them and that they have to prove their worth to you. It drives them nuts and confuses the shit out of them. I would say, "You seem like a pretty nice girl, but who knows, when I meet you, you might be one of those cyber fruit loops." And keep up this verifying attitude. They have to prove themselves to you.
Regards

Todd, Australia.

P.S. Guys, donít think money, looks, a new car, etc. will attract women. I am 23 years old, earn AU $65,000 pa, a project manager, have a brand new PT Cruiser, building my first house and live in an exclusive area in Melbourne, above average looking (7 or 8) and graduated with 1st Class Honors from a University. But, I still donít get women coming after me. I understand that it is confidence and me approaching them that will get me the girls. Which I am still working on. So donít be too down on yourselves if you arenít rich.
---
[ Back to Contest Page | Home | Site Map | Catalog of Products for Seducing Women]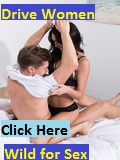 Gemini Publishing Co., 818 Lois Street, Suite A, Kerrville, TX 78028
Copyright © 2008 by Gemini Publishing Company