Winner of Our Date From Hell Contest

I asked out an attractive woman, Karen. I met Karen at the park. I took her around town for lunch, dinner, clubs, or whatever, but no matter where we went, it seemed she knew every guy that walked through any door. she called each one over and gave them a big hug and kiss and talked with them in a flirting manner for a couple of minutes. When she wasn't greeting this endless stream of men, she was checking out all the other guys in the place. On one of those dates I couldn't take it anymore. I told her I had to be home early, she then asked me if I could drop her off at a friends house. I agreed to take her. This so called "friend" turned out to be some guy, whom she passionately kissed when he opened the door. Then as was driving off, she turned and waived to me, I drove off totally humiliated in my car. As you can see by now. I never called her again.
Our lucky winner of this contest, F. Cruz, was awarded any free book of his choice from our catalog of products on meeting, dating, attracting, and seducing single women.
---
[ Back to Contest Page | Home | Site Map | Catalog of Products for Seducing Women]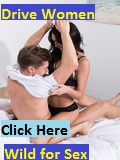 Gemini Publishing Co., 818 Lois Street, Suite A, Kerrville, TX 78028
Copyright © 2008 by Gemini Publishing Company