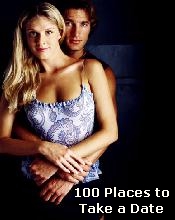 100 Best Places to Take a Date
Learn about the 100 surefire places you can take single women on a date that are guaranteed to win a woman's heart and make her want to become romantic and intimate with you.
Don't be a dull, boring single guy who just takes women on a date to dinner and a movie. She's use to this. Really impress her with some creative dating.
This dating guide eBook on CD is full of dating ideas and romantic dates that will give you the decisive edge over other guys.
The main purpose of this dating guide is to give you a gold mine of creative dating ideas that will make a lasting impression on women and make them crave to be with you.
By showing women a good time, it can create intimacy and romance. Plus, you will gain an unfair advantage over other men pursuing her affections.
A lot of men have a hard time thinking of what to do and where to go on a date. So, they settle for the standard routine of dinner and a movie, which doesn't leave a lasting impression or create enough intimacy.
If you really want to impress a date and make her fall for you, take her on a unique date she will never forget. Just look through this dating guide ebook on CD and you'll discover tons of information on fun and romantic things to do. By being unique and creative, you'll stand out among the other guys she's dated and she will want to be with you again and again.

Drive Women Wild with Powerful Pheromone Cologne
Just keep taking a girl you're attracted to on one fun and creative date after another and she's bound to fall for you and want to be with you again and again. Try it. It works!
There's a lot of men who have limited finances for dating, so I've included lots of fun things to do on a date that are inexpensive or don't cost anything. There's an abundance of things you can do that involve nature and the great outdoors that are free, too.
You will want to keep this dating guide eBook on CD handy. Use it over and over again to plan your dates and seductive strategies. Keep notes on places and things you did on dates that seemed to impress your dates the most and make them want to become intimate with you.
Impress single women so much that they may actually fall in love with you and want to make mad, passionate romance with you because of your creativity in dating and romance!
Order today for many tomorrows filled with hot & sexy single women craving to be with you for love, good times, and romance. Satisfaction guaranteed or your money back (just return CD for refund minus shipping cost).
Your eBook will be in the format of a PDF file that will be sent through the U.S. Mail on a CD.
For those of you that don't know what an eBook (electronic book) is, this is a book in the form of a PDF file that contains the exact content as the printed or hard copy book. Just simply put this CD in your CD-Rom drive and double-click the file to read or print your eBook.
P.S. - This is not an audio CD


---
100 Places to Take a Date eBook CD - $4.95 (To Order by Credit Card or PayPal please click the Add to Cart button below)
---
[ Back | Catalog | Home | Sitemap | E-Mail | Order Form for Mailing Your Order | Next--> ]


Gemini Publishing Co., 818 Lois Street, Suite A, Kerrville, TX 78028
Phone: (830) 496-3337...Buy Now...Email: Click Here
Copyright © 2023 by Gemini Publishing Company